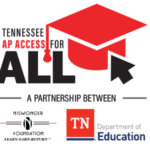 Website apaccessforall AP Access for All
Giving EVERY high school student the opportunity to take advanced placement classes for FREE college credit
AP PSYCHOLOGY TEACHERS NEEDED FOR SPRING 2022
AP Access for ALL is looking for AP Psychology teachers to help us change the college going culture in Tennessee! Join us to be a part of an exciting new statewide initiative bringing students opportunities to excel no matter their zip code.
AP Access for ALL needs certified AP Psychology teachers to teach online classes for the 2022 spring semester. This is an adjunct position and can be taught in addition to your current teaching position. Teaching an AP Access for ALL course is a great opportunity for teachers looking to boost their resume and for retired teachers who want to work part-time from home.
ABOUT AP PSYCHOLOGY:
With no prerequisites, AP Psychology allows students to cultivate their understanding of the systematic and scientific study of human behavior. Explore concepts like the biological bases of behavior, sensation and perception, learning and cognition, motivation, developmental psychology, testing and individual differences, treatment of abnormal behavior, and social psychology.
Applicants must hold a secondary teaching license with TN code 80, 250, or 426.
Niswonger Online staff will oversee the creation of all online AP courses. Teachers who are hired to teach for us will be given a fully online course with all content, information pages, assessments, and a College Board approved syllabus. The teacher will be asked to personalize this course for their students by creating an inviting homepage.
Students enrollment and placement takes place from November 17th through January 5th and classes will begin Monday, January 10th.
AP Access for ALL teachers receive support through Niswonger Online training, Niswonger Online staff, monthly AP Cohort meetings, and a Technology Support team.
Qualifications:
-TN Teaching License Required
-Must be AP College Board Certified -OR- Have Previous Advanced Placement, Dual Enrollment, or Dual Credit Teaching Experience
-Bachelor's degree in appropriate subject
Benefits:
-Work Remotely
-Flexible schedule
-Part-time
-Competitive Pay
-Be apart of helping TN create a college going culture
-Build your resume and grow your career
—–
Currently only half of Tennessee's high school students have access to an AP class. AP Access for All is a statewide partnership between the Tennessee Department of Education and the Niswonger Foundation working to give EVERY Tennessee high school student the opportunity to take advanced placement classes for college credit online.
Let's show the rest of the country that Tennessee is committed to developing college-ready students. Join us in helping to put all students on an equal playing field and give AP access to ALL Tennessee students.
Learn more about teaching for AP Access for ALL and read through frequently asked questions at tnapaccessforall.org.
Compensation and Pay Schedule for Niswonger Online AP Teachers:
AP Course Section = 20 students max
AP Pay- $2,000 per course section + $50/ student
Year-Long Pay Schedule- $500 in September, $500 in Dec, $500 in February, $500 + $50/student pay in May
One- Semester Pay Schedule- $1,000 in February, $1,000+$50/student in May