AP Access For ALL Success Spotlight: DeKalb County High School
AP Access for ALL is excited to spotlight DeKalb County High School in Smithville, Tennessee for its ingenuity and dedication to bringing AP courses to its students.
In DeKalb County High School's second year of AP Access for ALL (APAA), more than 50 students are enrolled in and passing APAA courses, up from three students in APAA's inaugural year.
"This is a great opportunity for students to advance their coursework," Tara Mooneyham, Site Coordinator for Online Learning at DeKalb County High School. "We don't offer AP courses in-house, so any AP courses they take are through APAA. These online courses allow students to get a better sense of how it might be in college."
To ensure students taking APAA courses succeed in their classes, Mooneyham oversees a Distance Learning Lab course for APAA students to work on their virtual AP courses during school hours.
"This in-person class gives them five hours a week at school to work on their AP courses. This helps them succeed in their classes, as it helps them time manage their courses along with after-school activities, sports, and jobs."
DeKalb County High School seniors Sheridan O'Connor and Robert Wheeler both said their classes are going great, and opening doors to opportunities they previously didn't have access to.
"The courses are challenging for sure, but I've been able to adjust and am doing all right," Wheeler said. Wheeler is currently enrolled in AP Biology, AP Psychology, and AP Government.
"It's really opened up opportunities because we're from a small rural school where AP isn't offered," Wheeler said. "APAA has shown me what the workload is going to be like in college, which is a lot more work than my high school classes. Thanks to APAA, I know I'm not going to be overwhelmed next fall since I already have an idea of how my courses are going to go."
O'Connor said she agrees the challenge of AP courses in high school is setting her up for success as she prepares for her freshman year of college at the University of Tennessee Knoxville.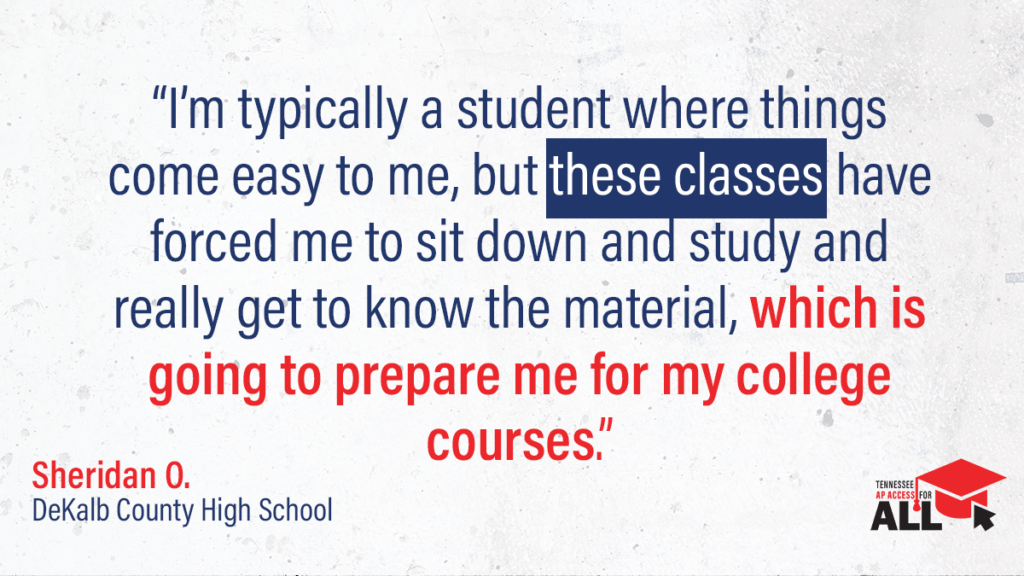 "I'm typically a student where things come easy to me, but these classes have forced me to sit down and study and really get to know the material, which is going to prepare me for my college courses," O'Connor said.
O'Connor said she intends to study political science in college and credits her APAA courses for exposing her to ideas beyond what her school offers.
"The classes have helped me to grow and think for myself and establish my own opinions on things," O'Connor said of her AP Government, AP Statistics, and AP Art History courses. "If you're self-motivated and have the desire to learn more as a person, APAA will help you beyond what you can do in a high school setting. No one is holding your hand, so you have to have the initiative to get the assignments done. As will happen in college, it's up to you to do the work."
At AP Access for ALL, we are proud of all our DeKalb County High School students, and the staff who are encouraging them to make APAA a priority. The dedication of staff members, and perseverance from students, are excelling students toward prosperous futures.
We can't wait to see how students at DeKalb County, and all our AP Access for all students, succeed in their postsecondary endeavors.